RTI GAP Insurance Cover
Return to Invoice (RTI) Guaranteed Asset Protection (GAP) Insurance ensures you receive the price paid for your vehicle – or the value of the outstanding finance – in the event of a total loss claim (write-off).
Available from £147 for 3 years' cover
Covers new and used vehicles up to 10 years old or 100,000 miles
Suitable for vehicles worth up to £180,000
Reimburses up to £250 of Car Insurance Excess
In the event of a theft or a write-off, your insurer may only cover the market value of the vehicle. This is likely to be less than the amount you paid, owing to depreciation. Return to Invoice GAP Insurance allows you to recover the amount paid, so you can clear any remaining finance or buy a new vehicle.
RTI Insurance Example
The original vehicle purchase price is £35,000.
Car Insurance pays £25,000 (the market value) in the event of a total loss.
RTI GAP Insurance pays out £10,000.
The GAP Insurance covers the difference in values, so you don't end up out of pocket.
Simply call your insurer's claims line in the event of an accident or theft.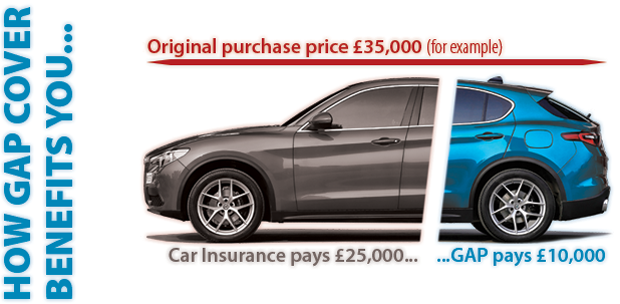 GAP Insurance Cost
GAP cover from Chris Knott Insurance starts at just £147 for 3 years' cover on vehicles less than 10 years old, with fewer than 100,000 miles on the clock.
Get a quote online for our 5-star Defaqto-rated RTI GAP Cover Insurance today. GAP cover must be arranged during the first 100 days of ownership.