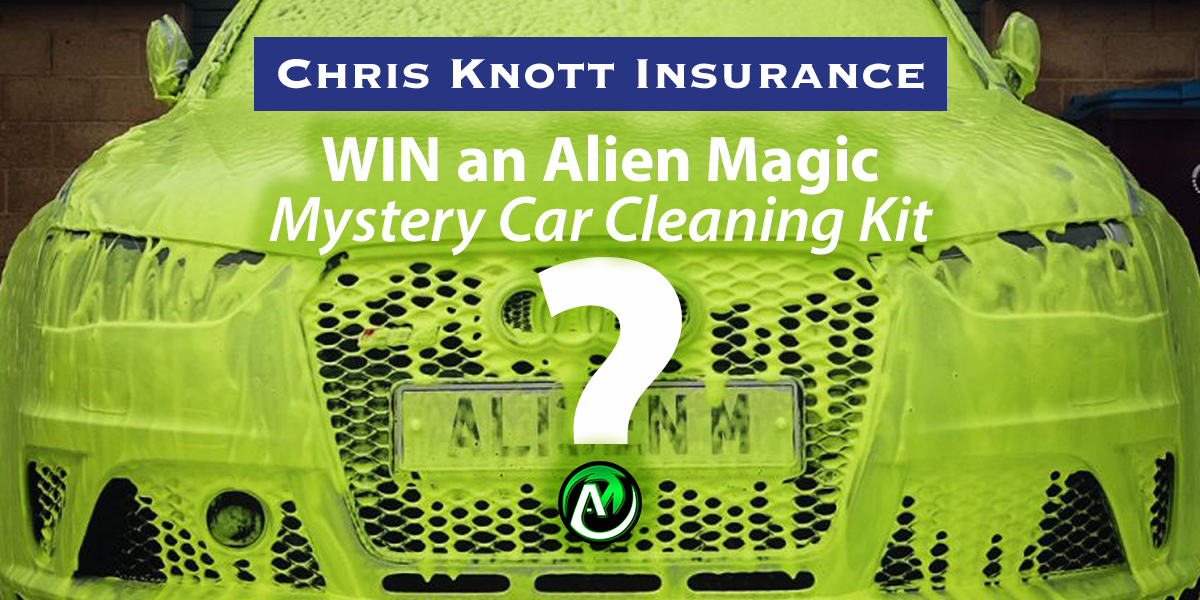 You could clean up with Chris Knott this month.
Drivers who request a car insurance quote from specialist broker, Chris Knott, during March will be rewarded with more than just a competitive premium.
On receipt of a quote anytime before 6pm on 31st March, customers will automatically qualify for the chance to WIN an Alien Magic Mystery Car Cleaning Kit.
Prize Contents
The luxury car care kit could contain absolutely anything from the Alien Magic range. But don't worry, you won't be short-changed - your prize will be worth £170.
At that value, it could (for example), include:
Glo - Neon Yellow Snow Foam - 500ml
Bling - Luxury Car Shampoo - 500ml
Diamond - Glass Cleaner - 500ml
Wrath - Iron Fallout Remover - 500ml
Venom - Acid Based Wheel Cleaner - 500ml
Nano Clay Bar Kit - Fine, Medium, Heavy - 300g
Nuru - Clay Lube & Pad Primer - 500ml
Seamless Microfibre Cloths - Pearl Knit - Twin pack
Krypton - Si02 Quick Detailer - 500ml
Boss - The Gloss King (3rd Anniversary Edition) Carnauba Wet Wax - 500ml
Guard - Wheel Sealant Spray - 500ml
Want to get your hands on this prize - or maybe just a lower insurance premium?
To request a car insurance quote customers should call Chris Knott or complete brief details online...
Get a CAR QUOTE - and gain entry in the draw
QUOTELINE: 0800 917 2274
Aside from the prize draw, there are many other reasons to include Chris Knott when gathering car insurance quotes.
The Chris Knott Benefit
CK has been servicing the needs of members of the UK's car club and enthusiasts community for almost 40 years, offering policyholders a number of advantages:
Best deals reserved for car club/forum members and enthusiasts
Competitive premiums for modern, modified or classic cars
Not just for your club car - all the cars in your household can benefit inc. hybrids/electrics
Easy access by phone, email, club forum or social media
Person-to-person service from UK insurance experts
Option to use your own preferred repairer if you have one
Multi-car and loyalty discounts
Agreed Value and Limited Mileage policies available
Long-standing relationship with car clubs and their members
Significant financial support to the enthusiast community
Compatible Add-ons available - Excess Protector, Breakdown Cover, GAP
QUOTELINE: 0800 917 2274
---
NOTE: genuine new business quotes only - renewal invitations are not eligible. Chris Knott reserves the right to check that the winner's car insurance renewal is actually due within the qualification period, which is policies beginning 1st March 2021 to 30th April 2021 (upto 30 days following the close of the competition). Check out the full T&C's.