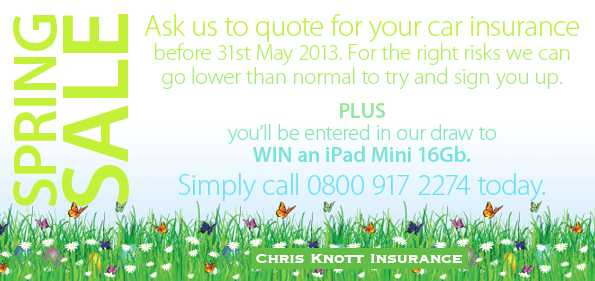 That's right, just call us for a quote and we'll put you in the Draw for an iPad Mini 16Gb WiFi.
It's a see-through ploy to encourage you to give us a call for a car insurance quote but we think we can save you money too, so it could be worth the call. We sign up just over 1 in every 3 quotes at the moment - the next one could be you.
You can call us FREE on 0800 917 2274 (or 01424 200477) and mention your club/forum's unique code to make sure you get the full benefit and entry into the prize draw.
The draw closes on 31st May 2013 but as long as you get your quote before then, the offer could cover any policy starting between now and 30th June.
Company Profile | Feedback | Press | Terms of Business | Privacy Policy | Site Map © Chris Knott Insurance 2008 : Site design by Nick Day