Chris Knott RTI/Finance GAP Cover
Guarantee the true value of your vehicle in case of a total loss claim (write-off) in the next 3 years.
What is RTI/Finance GAP Cover?
In the event of a total loss, your Comprehensive Motor Insurance policy will only pay you the market value of your vehicle at the time of the loss. However, you may have outstanding finance owing on the vehicle which is greater than that market value. In any case you'll get back less than you paid for, or owe, on the vehicle.
RTI/Finance GAP Insurance covers you for 3 years and gives you back the difference between your motor insurer's payout and the net purchase invoice price or the outstanding finance amount (whichever is greater) so you can buy another car for the original value.
Chris Knott RTI/Finance GAP Cover costs from just £147 for 3 years' protection and is available on vehicles valued right up to £180,000. Call us for your quote or get a full quote online:

How does it work?
Here's a visual illustration to show you the simple principles and how you'd be better off with GAP Cover after a total loss than without it: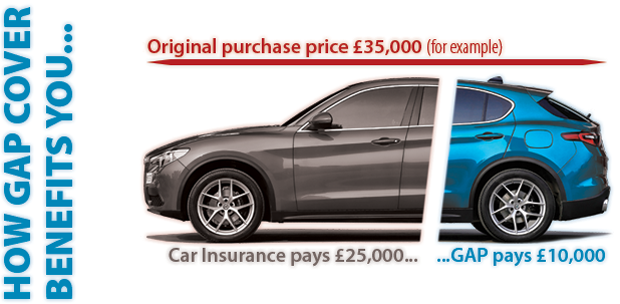 Chris Knott RTI/Finance GAP Cover also refunds your motor excess in the event of a total loss, up to £250.
Which vehicles qualify?
Whether you have purchased your vehicle outright or on PCP, personal contract hire or lease - arranging RTI/Finance GAP Cover makes sense and provides valuable benefits at relatively little cost.
Cover is available for cars (and commercial vehicles upto 3,500kg) under 10 years old/100,000 miles - and must be purchased within 100 days of the vehicle purchase.
The cover is not available for kit-cars, invalid carriages, grey/parallel imports or vehicles not built for sale in the UK.
RTI/Finance GAP Cover effectively allows you to remove depreciation from the equation if you suffer a total loss within 3 years of arranging the protection and puts you back in your original position.
To arrange cover, simply call FREE on 0800 917 2274 and follow the car options on the menu or get a quote and buy online: