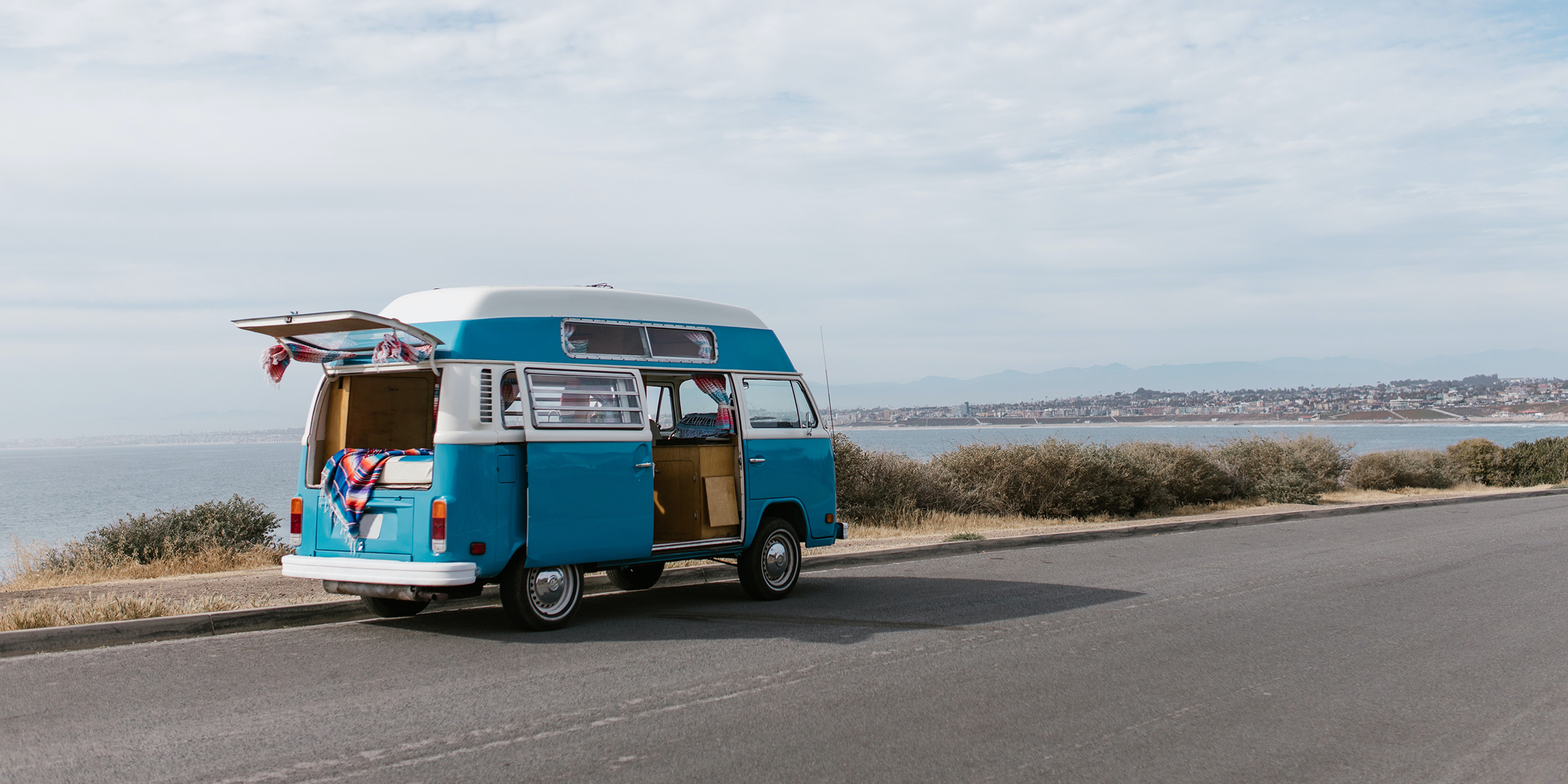 A campervan is the ultimate way to make the most of exploring the UK, allowing you the flexibility to jump in the van and enjoy a spontaneous trip away whenever suits. Itís no wonder that campervan sales saw a huge surge during the Covid-19 pandemic and the period of restricted international travel that followed.
From 1st June 2020 to the end of June 2021, 16,608 new motorhomes were registered with the DVLA. Thatís an 8.25% increase on the previous record of 15,342 new motorhomes registered during the same period in 2018/2019.
Of those campervans, the most popular must be classic campervan models. With a retro-cool style, thereís something irresistible about the VW Type 2, BMC Princess and the Ford Transit Mk2.
If youíre considering joining the UKís ever-growing campervan contingent, youíll also need to secure some campervan insurance to protect your vehicle. Weíve put together everything you need to know Ė just keep reading for our classic campervan insurance advice.
What are the most popular classic campervans?
If you dream of packing up your stuff and living the #vanlife, you canít go wrong with a classic campervan. Perfect for long-term road trips as well as shorter adventures to our countryís coasts and mountains, these nifty vans are comfortable while exuding vintage-style cool.
One of the most iconic classic campervans, the VW Transporter, celebrated its 70th birthday in 2020. Because itís been in constant production for those 70 years, it actually has the longest production run of any commercial vehicle too. More than 13 million of these iconic vans have been built since 8th March 1950.
You might have heard the names VW Transporter and Type 2 Ė well, theyíre the same thing. The Transporter also goes by the names Type 2, Bulli, Kombi, Samba and Microbus. So if youíre looking at any of these models, youíll be the proud owner of a classic VW campervan, one of the most iconic vehicles on the road.
How much to insure a campervan?
As with any type of insurance, the amount youíll pay for campervan insurance depends on multiple factors, including the age of the van, your age, location, your driving history and whether there are any additional drivers on your policy.
There are some specific criteria relating to campervans, which will be assessed by your potential insurer before they give you a campervan insurance quote.
Campervan age
If you choose to refurbish a decades-old VW van, as opposed to buying a brand new, top-of-the-range one, youíll probably find that your insurance premium costs less. It will feature fewer mod-cons, which means itís easier to repair or replace.
Campervan value
Generally, the more expensive your campervan is, the more expensive itíll be to insure. A van that costs £50,000 wonít necessarily cost twice as much to insure as one that costs £25,000, but the value may be used as an indication of how much you can expect your premium to be.
Campervan security
The security features of your campervan may lower the premium, particularly security features like a wheel clamp or an alarm to prevent thefts.
Drivers
The drivers on the policy can affect the price of your insurance. As with other types of insurance, drivers with penalty points on their licences or previous insurance claims could increase the cost. Likewise, particularly old, or young drivers, or learners, may also increase the price.
Camper storage
Where will you keep your campervan? This can have an impact on your insurance quote. Keeping it in a locked garage at home will be the most cost-effective solution, while storing it on the street outside your home may increase the premium.
Campervan breakdown cover
Your campervan is likely to be one of your most expensive purchases, so you want to ensure itís covered should the worst happen. As such, itís a good idea to get breakdown cover for your campervan. After all, you donít want to get stranded due to a puncture just as you're heading off on a weekend away!
Some insurance providers include breakdown cover within the cost of your quote, while others quote for breakdown cover as an added extra.
Itís important to ensure that you get the right kind of cover. Non-specialist breakdown policies may not cover campervans, so itís important to read the fine print to make sure that your policy covers your specific needs. In particular, you should look at any weight limits detailed in your policy, as well as any restrictions on Ďvehicles with living accommodationí.
Here at Chris Knott Insurance, we can arrange breakdown cover for small campervans and motorhomes. We can provide a rescue service for vehicles up to 7m long, 3m high, 2.25m across and with a weight up to 3,500kg.
Campervan conversion insurance
If youíve converted a van into a campervan, itís important to take care when arranging cover.
The type of insurance you need will depend on the modifications youíve made to your van. Itís unlikely that youíll be able to get standard van insurance. If youíve made alterations to allow you to live in the campervan, youíll have to get a converted campervan insurance policy, or even full campervan insurance.
There are some specific guidelines outlined by the DVLA that determine whether your van is classed as a motorhome or not, including:
A permanently enclosed fixed means of storage, such as a wardrobe or cupboard
At least 1 bed with a minimum length of 6 feet
A seating arrangement for diners to sit at a table
A fixed cooking or heating facility
A permanent, fixed water installation
Short-term campervan insurance
Not everyone has a campervan of their own Ė thatís what short-term campervan insurance is for. It means you can create memories that last a lifetime while borrowing someone elseís classic campervan for a long weekend, week, or even a month.
Although we can only offer 12-month policies at Chris Knott Insurance, short-term Campervan Insurance is available. It offers protection from 1 hour up to 30 days, so you can head off on an epic adventure, whether youíre hedging on a round-the-country coastline trip or exploring the mountains and lakes of the Lake District or Scottish Highlands.
Speak to us about Classic Campervan Insurance Today
Here at Chris Knott Insurance, we can arrange protection for your beloved campervan Ė including breakdown cover. Give us a call on 0800 917 2274 to speak to the team today!