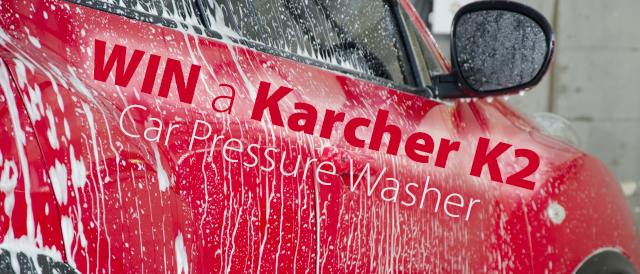 Get ready to become the snowfoam king (or queen) with this year's 'Awesome Autumn' Prize Draw offer from Chris Knott Insurance.
To enter our latest draw, all you need to do is request a Chris Knott Car Insurance quote before close of play on 31/12/18 (which will actually be 12:30 lunchtime as it's New Year's Eve). You'll gain automatic entry for the chance to WIN a Karcher K2 Full Control Car Pressure Washer.
QUOTELINE: 0800 917 2274
Perfect for keeping your pride and joy clean - the K2 Full Control Car pressure washer comes with a trigger gun, Full Control Vario lance and a Dirt Blaster lance that delivers outstanding cleaning performance using concentrated rotating pressure; this model also includes a Car Kit, with a wash brush, foam nozzle and car shampoo for effortless car cleaning.
Request a quote today for a car we don't yet look after and you'll be in with a chance of winning this desirable prize.
You can phone for your quote or complete contact details at https://www.chrisknott.co.uk/CarQuote and we'll call you.
We can quote upto 30 days in advance so even if you're due in the month after the closing date you could still gain entry.
Chris Knott Insurance specialises in looking after car club/forum members and enthusiasts with standard or modified cars.
When you ask us to quote you'll benefit from our competitive car insurance premiums that reward the care and attention you lavish on your car. You'll also receive professional advice, personal service and all the ongoing support you need. All this PLUS entry in our prize draw just for requesting a quote.
We'll make the draw in early January 2019.
To find out just how much Chris Knott Insurance can save you on your car insurance, either:
Call us FREE on 0800 917 2274 (mentioning your car club/forum to access our special club rates);
OR
Complete brief contact details at https://www.chrisknott.co.uk/CarQuote
We look forward to helping you to get a better deal on your car insurance.
*Genuine quote requests only please - we reserve the right to request proof from the winner that the policy was actually due during the qualification period.